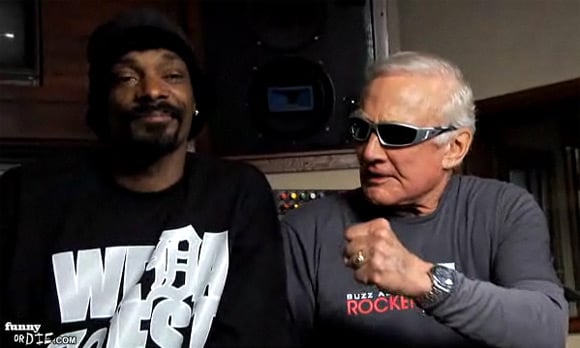 Following the remarkable recent team-up between indie darlings Vampire Weekend and buggy-eyed acting legend Steve Buscemi, we couldn't help but ruminate on the topic of strange musical collaborations, and thought we'd take you on a baffling trip down memory lane. So: let's have a peek at five of the weirdest get-togethers of all time.
5. The KLF and Tammy Wynette
Woah, woah, woah – we never said that 'weird' meant 'bad'. There are few stranger combinations than British electro-anarchists the KLF and old dame of country Tammy Wynette, but when they unleashed 'Justified And Ancient' in 1991, they produced the catchiest tune of the year.
4. Gwyneth Paltrow And Huey Lewis
Whereas this? Yep, this is bad. Vey bad.
3. Bone Thugs-N-Harmony And Phil Collins
For those of you (and I'm assuming there must be many) whose abiding memory of Phil Collins is that 'No Jacket Required' was the only cassette in your parents' car, watching him bust some moves alongside the Bone Thugs is somewhat disconcerting.

2. Eminem and Elton John
Marshall tries to stave off accusations of homophobia by performing a live Grammy duet with Elton John. Then spends the next few years trying to stave off accusations of awful, awful ideas for collaborations.
1. Buzz Aldrin and Snoop Dogg
Yes, you read that right. Buzz Aldrin and Snoop Dogg.
OTHER BAMM.TV STORIES YOU MIGHT LIKE:
BAMM.tv Rundown: Five Criminally Underrated Albums

BAMM.tv Rundown: The 10 Craziest Album Covers
BAMM.tv Rundown: 10 More Crazy Album Covers