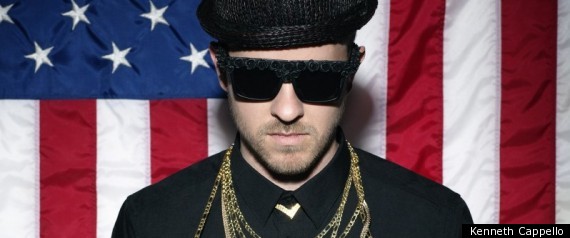 Anyone familiar with reviewer shorthand will know the meaning of the term 'wallpaper music'. It's often used to describe the output of MOR giants like Coldplay or Maroon 5 – it's background stuff, ambient dinner party noise, inoffensive and barely noticeable chatter which uses music more as a pleasant crutch than a blazing center of attention.
Sooooo … if you were a frenzied hip-hop electro-pop mastermind who drops beats like John McClane drops bad guys, you probably wouldn't want to associate yourself with the word. You'd call yourself 'Explosion Beast' or 'Annihilator' or 'Dance Yourself Sick'. That would be the predictable thing to do. The thing is: Ricky Reed – the producer, songwriter and multi-instrumentalist behind Wallpaper., our brand new Featured Artist – is anything but predictable.
Interested yet? Want to read on as we get all Home Depot on your ass and really start examining Wallpaper.? Or are you just a big old Doo-Doo Face?
(Note: Doo-Doo Face is the title of his first album. It's just a joke. We're not really calling you a Doo-Doo Face. Unless you're a sadomasochist and are into that kind of thing. This is the internet, after all).
Anyway. Let's continue (after the jump …)
Oakland, California has something of a reputation. Actually, make that reputations – Oakland can be many things to many people. It's shifting, multifaceted, transitory. Gertrude Stein once wrote of the place "there is no 'there' there." Fun fact: Oakland has the highest concentration of artists per capita of anywhere in the United States (even the hipster hordes of Seattle) … which means that all sorts of music is waiting to escape.
BAMM.tv favorites HOTTUB – the crazed electro-clash madams who put on a hugely memorable stage show, as seen in the clip above – are a good encapsulation of the Oakland ethos. And so is Ricky Reed. We're not saying that the madcap Wallpaper sound could only have emerged from Oakland. Just that Oakland helped a hell of a lot.
What is that sound exactly? Well – it's pretty much the sort of thing you'd expect from a self-described 'sleazy, excess-obsessed, disco-ball busting crowd destroyer'. While the Wallpaper project has invaluable support from fellow musicians Novena Carmel, Arjun Singh, Derek Taylor and Tom Peyton, it's very much a Reed-driven vision.
"My music IS the Bay Area," Reed explained in an interview with The Huffington Post. "I wouldn't be able to make the music I make now had I not grown up here. I grew up listening to bands like Digital Underground, E40 and Mac Dre. But as I've grown older, I've realized that it's much deeper than that. I'm very influenced by some of the older bands like Sly and the Family Stone. My music has evolved to reflect that multigendered, multiracial, multigenre music. Whether I realized it before or not, I'm most influenced by that rock and soul hybrid. I'm also really influenced by all sorts of greats from Michael Jackson to Prince to Dr. Dre or more recently the West Coast rap stuff."
There's also a healthy dose of humor, satire and irony in Wallpaper's music – pitch-perfect pastiches of pop tropes which also retain the right to be killer songs by their own standards. Let's not underestimate the rareness of this: acts who can successfully combine tongue-in-cheek laughter with genuine musical craftsmanship are few and far between. For every Lonely Island style triumph, there are a thousand embarrassing amateurs.
For an act who revels in immediacy, Wallpaper hasn't been an overnight success. It takes a lot of work to make performing (and partying) look so effortless. First EP 'Wallpaper' was released in 2006, followed up by second EP 'T-Rex' in 2008. Neither of them had a massive impact on the public consciousness, but those with their ear to the ground were already making all the right noises about all the right noises.
"For those of you who haven't stalked the goodness that is Wallpaper and need a reason to listen to an absolutely fantastic EP, here's the deal," enthused Grace Blasco at The Owl. "If you're anywhere near my age and can remember the Hyphy hip-hop era of the late '80s/early '90s and have a fondness for satire, you'll love Wallpaper; or if you really like getting down to groovy electro-pop. The fact that the songs work on both levels of pure enjoyment and social commentary are what really earn the full five for me."
2009 would see the evolution to a full-length album, with the scatologically titled 'Doo Doo Face'. You know that old cliché: if it looks like shit, then it's probably shit? Wallpaper happily busted that wide open, producing a work that may have been named after crap but – upon first listen – was obviously anything but.
"Doodoo Face is a fun, lighthearted romp into hip-hop that's more insistent than most other more serious stuff out there," stated David Price at Spinning Platters. "This album is here to make you laugh, smile and just have fun with friends. Just trust me you're certain to be singing into your hair brush soon enough."
Rafi Valez at Social Narwhal was similarly enthusiastic. "It seems the album was written with the intent to poke fun at pop music's flamboyant personalities ," he wrote, "while at the same time beating them at their own game. It will make you laugh … but it will make you dance too. Doodoo Face's strength is in its musical arrangements, as they keep you occupied even when you venture passed the album's hilarity."
The tipping point came, however, in 2011 with the release of the #STUPiDFACEDD EP. Boasting a title track that was an immediate dance classic and took Twitter by storm (not to mention the inclusion of the modestly-named 'BEST F**KING SONG EVER'), this was the moment at which the tortoise finally caught up with the hare: the zeitgeist had managed to reach the same speed as Wallpaper. MTV liked #STUPiDFACEDD so much they chose it to spearhead their new indie music campaign.
Which brings us to the present, and the July 2013 release of major label debut 'Ricky Reed Is Real'. This is arguably Wallpaper's 'Queen Is Dead' or 'Merriweather Post Pavillion' – the point at which all the excitement and promise swirls together into something genuinely amazing and unique.
"This album's intended goal is to be the bass-heavy soundtrack to a long night out on the town or amped up fraternity party," reflected Robert Ham at Alternative Press. The young Oaklander proves to have a facility for all of the styles, and finds smart ways to make them his own. Reed splatters many songs with bits of jangly guitars and stray samples of punk records … for a deliriously polyrhythmic effect."
"The primary focus [of the album] is helping people escape their typical lifestyle filled with worries and problems in order to party," wrote Travis Kowalski at Buffalo. "For a Saturday night out with friends, this is the new cornerstone for the late night party-rocking scene."
It's worth noting that – alongside the progression of Wallpaper's recorded output – the patented Ricky Reed live reputation has been steadily growing too – and by 'steadily growing' we mean 'exploding like a suitcase nuke'. A Wallpaper live experience is truly something to behold.
"My live show is a five piece," Ricky explained to Popdust. "Two drummers on kits flanking the stage, then a man in the middle who's a percussionist-sorta-hype man. "The live show is very loud and heavy. Not like a DJ walking around with me like [makes nerdy face]. It's more of a rock show than anything else." He's also not afraid of getting physical. "Stage diving isn't scary in the moment, because you've just had adrenaline running through your veins for the last 45 minutes. It's always at the end of the show. You have to wind up to it. When you stage dive, you can't just stand at the end of the stage and and go "boop." You have to really spring for it. You have to get air. Have to get your body horizontal, really get out there."
BAMM.tv has been lucky enough to witness the live Wallpaper spectacle for ourselves, as part of our 2011 SXSW showcase (below). It's a performance few of us are likely to forget anytime soon.
So what's next for Wallpaper? We wouldn't like to make predictions – there's probably more chance of guessing the lottery numbers. Although we're willing to hedge our bets that – whatever happens – there will be hell of a lot of partying involved …
OTHER BAMM.TV STORIES YOU MIGHT LIKE:
BAMM.tv Featured Artist: Typhoon
BAMM.tv Featured Artist: The Soft White Sixties

BAMM.tv Featured Artist: The Stone Foxes

BAMM.tv Featured Artist: Thao And The Get Down Stay Down

BAMM.tv Featured Artist: Diana Gameros
BAMM.tv Featured Artist: Geographer